<![if !vml]>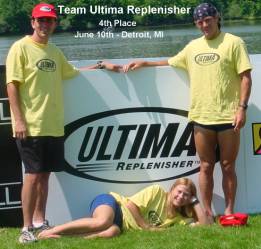 <![endif]>
Team Highlights:
2001 Hi-Tec AR Series                                 - 4th place elite division
2001 Hi-Tec Racing Series Sacramento          - 3rd place coed elite
2001 Hi-Tec Racing Series Pittsburgh           - 4th place coed elite
2001 Hi-Tec Racing Series Detroit                - 4th place coed elite
2000 Hi-Tec Racing Series L.A.                   - 7th place overall
2000 Fog Dog 24 Hour Adventure                 - 9th place overall
<![if !supportEmptyParas]> <![endif]>
Mike Zampino: (aka "The Captain - Leutentent")
Age 35
Phoenix, AZ
Engineer at Motorola
Ultima Replenisher team captain Mike Zampino is an experienced adventure racer, navigator and off-road duathlete. The current leader in the 2001 3D Mountain Bike Duathlon series, Mike has already tabbed overall wins in both of this year's opening series races. Mike is a former All-Arizona high school cross country hall of famer and track and field performer.  When not out racing, Mike's life revolves around his wife and three daughters.
<![if !supportEmptyParas]> <![endif]>
David Marks: (aka "The Machine & Personal Atentent")
Age 34
Phoenix AZ
Personal Trainer/Writer
Finally recovered from a broken ankle suffered during the FogDog 24 Hour Adventure, David is set to make his 2001 racing debut at the Hi-Tec Series Adventure Race in Los Angeles. David is one of the top duathletes/triathletes in Arizona, specializing in off-road racing and sprint adventure racing. David is the 2000 Southwest Regional Off-Road Duathlon Champion, and past winner of the Mountain Man Fat Tire Duathlon, 3D Mountain Bike Duathlon Series and 3D Mountain Bike Championship race.
<![if !supportEmptyParas]> <![endif]>
Tracey Theyerl Cote: (aka "The Smart One")
Age: 30
Home: Oakland, ME
Nordic Skiing Coach
Tracey Cote is in her fifth year as head women and men's Nordic skiing coach at Colby College in Maine. Tracey has a strong background in mountain biking and trail running. Tracey is a former collegiate MVP at Northern Michigan in cross-country running and skiing, a top-ten finisher at the NCAA Mountain Bike Championships and the top amateur in multiple XTERRA off-road triathlons.